Gifting Made Simple
Make a lasting impression with our hand-selected favorites. Need help? Check out our FAQs.
Prepaid Subscription Gifts
---
---
Gift them with guaranteed video streaming for their lifetime plus 100 years
When you gift a FOREVER Video Streaming Plan, your lucky recipient can watch their precious videos in FULL HD Quality on any device, at any time, right in their FOREVER Account. We save videos in a modern, industry-standard format that is optimized for both long-term storage AND online viewing.
Just gift once and in their FOREVER account, they'll enjoy:
Guaranteed streaming for their lifetime plus 100 years
High-definition quality on all their devices
No hidden fees, no recurring payments
Software and Digital Art Gifts
---
FOREVER Box Digitization Gifts
---
Not sure what to get?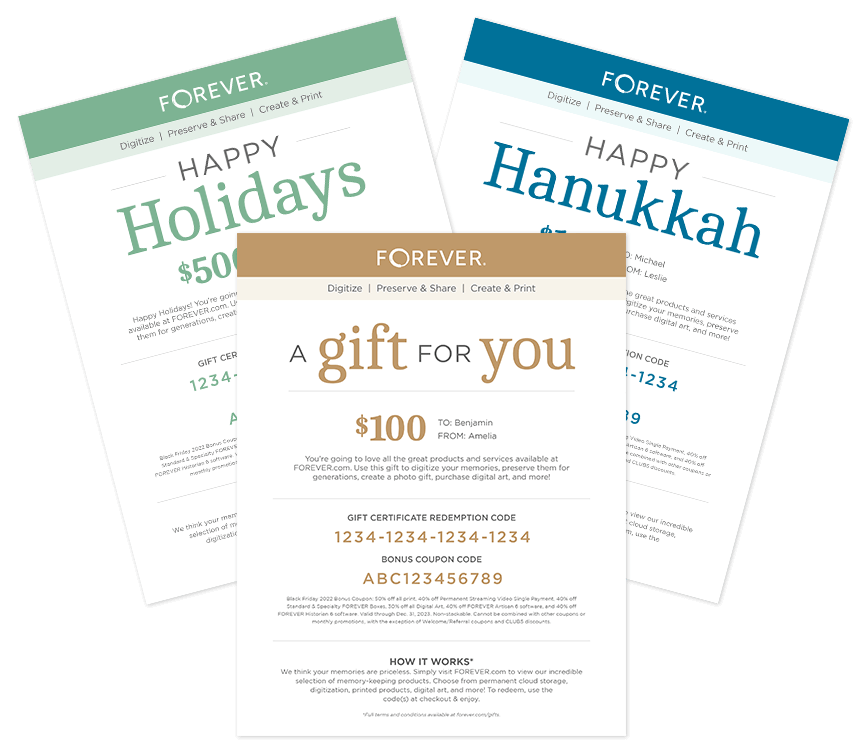 FOREVER Gift Certificates
Give a gift that lasts for generations. FOREVER Gift Certificates never expire and can be used on FOREVER Storage®, Media Conversion Boxes, Video Streaming Plans, Printing, Digital Art, Software, and p2P Memberships!
Send a Gift Certificate
Have you checked the list twice?