Gifting Made Simple
Make a lasting impression with our hand-selected favorites. Need help? Check out our FAQs.
---
Gift them with guaranteed video streaming for their lifetime plus 100 years
When you gift a FOREVER Streaming Video Plan, your lucky recipient can watch their precious videos in FULL HD Quality on any device, at any time, right in their FOREVER Account. We save videos in a modern, industry-standard format that is optimized for both long-term storage AND online viewing.
Just gift once and in their FOREVER account, they'll enjoy:
Guaranteed streaming for their lifetime plus 100 years
High-definition quality on all their devices
No hidden fees, no recurring payments
Not sure what to get?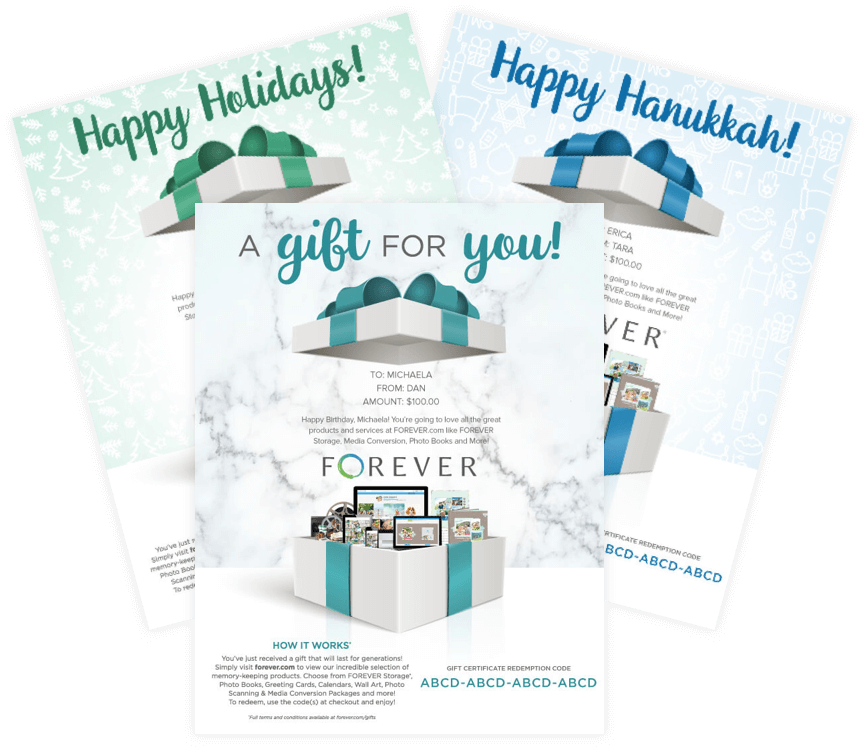 FOREVER Gift Certificates
Give a gift that lasts for generations. FOREVER Gift Certificates never expire and can be used on FOREVER Storage®, Media Conversion Boxes, Streaming Video Plans, Printing, Digital Art, Software, and p2P Memberships!
Send a Gift Certificate
What products can I give as a gift?
You can gift any size FOREVER Storage® single payment, a FOREVER Permanent Streaming Video single payment, FOREVER Artisan® and FOREVER Historian™ software, and any digital art.
How do I deliver a gift?
With FOREVER, you can choose from three easy methods of delivering your gifts! On your Gift Management page, simply select the gift you'd like to deliver, add a custom message, and send it to the person of your choice (the "recipient"). You can print out a professionally designed Gift PDF to deliver in person, schedule your gift to be sent via email by FOREVER, or simply share a Gift Link via SMS or your favorite messaging app.
What happens if I give someone a gift that they already own?
If you gift a FOREVER Storage single payment to someone who is already a FOREVER Storage owner, they are encouraged to accept. After all, nobody can have too much FOREVER Storage! If you gift Artisan, Historian, or a digital art collection to someone who already owns that item, they may still accept the gift if they choose. If you gift a Permanent Streaming Video Plan single payment to someone who already owns one, they will not have the option to accept the gift and it will be automatically returned to you.
Can I return items that I've made gifts?
Items purchased as gifts fall under the same Return Policy as regularly purchased items. Once a gift has been delivered and accepted by a recipient, it is not eligible for return.
See the full FAQ
Have you checked the list twice?